Unity Sand Ceremony (Vows/Wording)
Unity Sand Ceremony Tips (Avoid Mistakes)
Directions to
Engraving Connection
(Wedding Engraver)
Flower Girls are precious. The last wedding I attended, she was throwing the flower peddles just as high as she could with a big smile on her face. Everybody felt the enthusism she had being the flower girl.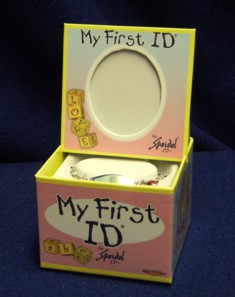 You will want to give your flower girl a special gift. We carry Speidel's My First ID bracelets. They are just precious and your flower girl have a great time showing off her very own First ID Bracelet. Choose from different styles of bracelets to fit your flower girls personality: Butterfly, Lady Bug, Cross or a Teddy Bear Bracelet.
We engrave her first name on the front and wedding date on the back at no additional charge.

Engraving Connection
www.weddingengraver.com
1205 S. Main St.
Plymouth, MI 48170
877-8-AWARDS
etched@engravecon.com