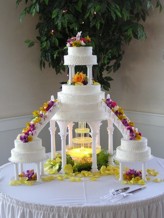 Cake
Server
Sets
Engraving
On the Cake servers, we engrave the couples's first names and the wedding date underneath. The names are engraved a little larger than the date. The type style we recomend is Victoria Script.

Make a wedding memory with engraving your Cake Server.
Unity Sand Ceremony (Vows/Wording)
Unity Sand Ceremony Tips (Avoid Mistakes)
Directions to
Engraving Connection
(Wedding Engraver)

Handle Close-up

Forevermore Cake Server Set by Lenox
6217863
$43.00 FREE engraving
Picture perfect... Slicing the first piece of wedding cake is always a fond memory - and a favorite photo in your wedding album. So, of course, you want a serving set as special as the day itself. This silverplated Lenox knife and server will be a beautiful part of the photograph... and of celebrations for years to come. Length of knife: 13 1/4", server: 11"
- Crafted of silverplated metal
- Includes knife and pie/cake server
- Includes felt-lined storage box
FREE Engraving - Couples first names and wedding date on server.
$43.00
Proceed to Checkout


WED002 Hearts Cake Server Set
The double hearts on the handle have crystal set in them. This is just a beautiful server set. We engrave the couples first names on the server with the date underneath.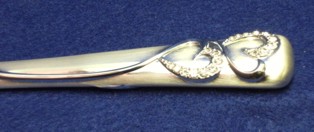 Handle enlarged

Price with engraving $70.00
Proceed to Checkout


03956 Crystals Cake Server Set
The crystal inlayed into the handles just sparkle like crazy. The is a real eye catcher as you cut your wedding cake. We engrave your first names with the wedding date underneath on the server. Make your wedding perfect with this set.

$40..00 with First Names and Date Engraved FREE
Proceed to Checkout
Below is a video showing the crystals sparkling.
The player will show in this paragraph
Ship Us Your Server for Engraving
You all ready have a cake server for your wedding? We can engrave it for you. We charge $10.00 for the first 10 letters, then 45 cents a letter. If your in the Detroit Metro area, just drop it off at the store and usually your order is ready the next day. Also bring in your wedding bands and kill two birds with one stone.
If your not in the Detroit Metro area, you can ship your server to us. Please enclose your name, address, phone number and engraving information. We will call you when we receive you server and ask for your credit card number. Allow 24 hours for engraving. Shipping is $7.00 UPS Ground.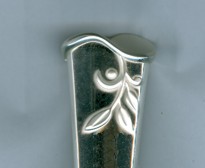 Closeup of Design
Opal Innocence Cake Server Set 761600A by Lenox
$58.00 with Free Engraving
With one hand on the cake knife and the other on the server, you'll be able to feel the intricate sculpting that graces each handle. These serving pieces give you the best of both worlds - the beauty you'd expect of sterling silver, the convenience you appreciate of stainless steel. Length of knife: 13 1/4", server: 11"
- Crafted of silverplated metal
- Dishwasher-safe and tarnish-resistant
- An ideal engagement or bridal shower gift
FREE Engraving - Couples first names and wedding date on server.
$58.00
Proceed to Checkout