The big day is coming. Now is the time to buy gifts for the guys standing up in your wedding. We suggest this purchase be done about a month before the wedding. Things change for a lot of the guys standing up in the wedding and they are no longer available to stand up at your wedding. One month is plenty of time to have your gifts engraved.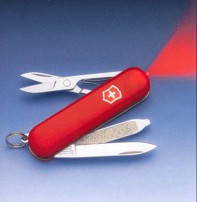 SwissLite 53020
Swiss Army Knife with a light. What a great gift. We laser a first name into the red case and silver fill the letters. We engrave on the red caseing with a laser and silver color fill the engraving. First name or Initials look great on this classic Swiss Army Knife. Engraving FREE. $35.00 Proceed to Checkout
Choose between Zaph Chancery, Zaph Humnst and Times Roman.
C-SERIES COLLECTION
Cross Pens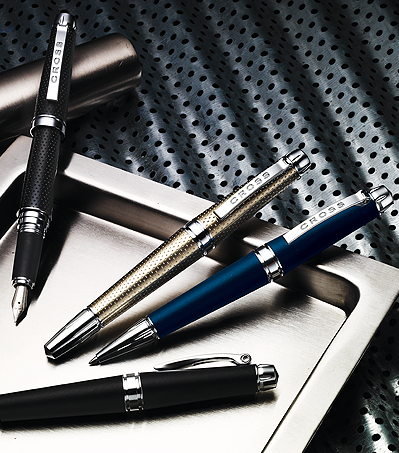 Cross Pens make a great traditional groomsmen gift. To the left is the C Series that is new this year. We also carry the orginal Classic Century to the latest and newest styles. Special offer: Name engraved FREE when ordering on-line. Turbo-charged performance meets cutting-edge design. Industrial design detailing and finishes inspired by fine sport cars give this pen a high-tech look: chrome lug-nut appointments, rhodium plated solid 18kt gold nib, twist-off cap and rubberized front section on Fountain Pens.
The new capless, propel/repel Selectip® Rolling Ball Pen has a unique design that also allows for it to interchange to a Ballpoint Pen. A complimentary ballpoint refill is included with every Rolling Ball Pen for a choice of technologies. Available in four finishes: Monaco Blue, Performance Black, Champagne, and Carbon Black.
Free Engraving on Pens that are engravable. Most orders shipped with engraving in 24 hours.

Carbon Black Select Tip Roller Ball Pen (not engravable) $90.00 Proceed to Checkout
Performace Black Select Tip Roller Ball Pen $90.00Proceed to Checkout
Monaco Blue Select Tip Rollingball Pen $90.00 Proceed to Checkout
Champaign Gold Select Tip Rollingball Pen (not engravable) $90.00 Proceed to Checkout
Click Here for More A.T. Cross Pens at our sister site Engraving Connection Store
928-200 Cigar Flask Combo
It looks like it holds two cirgars, but one side is a flask. Impress your friends with unique cigar holder. Name and Date Engraved $32.00
Proceed to Checkout
Your choice of Fonts: Claradon & Optimal
.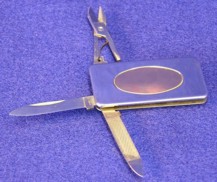 Money Clip with pen knife, nail file, and scissors.This colibri money clip is a real gem. Silver Plated with gold plated oval. First name or Initials engraved in the Oval and Date engraved on the back. $50.00
Proceed to Checkout

Swiss Army Money ClipsVarious Colors - Red - Silver - Black Onx. We engrave first name or initials on the front and the date on the back clip.Tools include:
1. Blade
2. Nail File
3. Nail Cleaner
4. Scissors
5. Money ClipChoose the color of your choice. Your Groomsmen will appreciate the quality and usefulness of thisgift.
53739 Red Alox Proceed to Checkout
53740 Silver Alox Proceed to Checkout
53743 Black Alox Proceed to Checkout
Elk Mug2695
We engrave on the lid. Room for First Name and Wedding Date. $32.00 Proceed to Checkout

We carry all sorts of sports and hunting themes. Call to see if we have the theme you want.

Fonts available: Claradon & Optimal

Strap Handled Tankard
1107
36 oz tankard 6 1/2" tall. This tankard has some very pleasing qualities. It has great cold reention, greater than mugs made of porcelain, glass or any other material. Just fill your tankard with ice and count 20 seconds. Now dump the ice and fill the tankard. Not only has it suddenly become "ice cold", it will stay cold and so wil your beer or ale. We suggest using the tankard for only one beer or ale - the beer or ale will taste better and better every time aroound. It will retain it's head longer and flow better. Free Engraving - Name or Initials and Date. $39.00 Proceed to Checkout

Key Ring AKR000610YSilver finish with goldtone oval key ring. Comes with split ring. We suggest to engrave a first name or three initials. On the back side engrave the wedding date. Also comes in a matching money clip.Made by Colibri $24.00
Proceed to Checkout

CCF001022 Cigarette Flask
Say it is not true. You can take care of two vices with one purchase. The front door opens to hold cigarettes or something else - if you know what I mean. Limited Quanity Available. Name engraved FREE.


$35.00 Proceed to Checkout

513-906 Sainless Steel Design Flask
The design frames the engraving area. Room for a short first name or initials. Holds 6 oz of precious cargo. Name or initials engraved FREE

$29.00 Proceed to Checkout

175-806 Black Leather Flask
Fits nicely into your hip pocket or another pocket for easy access. 6 oz of enjoyment with each fill up. Name and date engraved FREE

$30.00 Proceed to Checkout

5158 Nambe Bottle Opener
The bottle opener has a nice weight to it showing quality. We engrave on the handle - name and wedding date.

$37.00 Proceed to Checkout

20818 Bottle/Can Holder
Has insulation to keep your beverage cold for a long time. This makes a unique groomsmen gift that will ge raves for years to come. Name and wedding date engraved.


$27.00 Proceed to Checkout

The Video will be shown here

5959 Bell Mug
Your hand just gravitates to the bell on the handle. As you ring the bell - shout out "More Beer". You can have a lot of fun with this beer mug. We etched the groomsmen's first name and wedding date at no additional charge.
$21.00 Proceed to Checkout
View Video of Bell Ringing



5262 Super Mug
Holds 1 liter of your favorite beverage. Giving this to a groomsmen, get a signed certificate that he will drink responsibility! Price includes two lines of etching. The expample, we used the Goudy Hand Tooled font - it gives a three dimensional look to the lettering.

$10.00 Proceed to Checkout

Here is an unique idea for groomsmen's gifts.
Etch Jack Daniels bottles. Ship the bottles to us and we will etch the groomsmen's first name and wedding date on the bottle. Allow a couple of days for etching and the shipping time.
Engraving Connection
www.weddingengraver.com
1205 S. Main St.
Plymouth, MI 48170
877-8-AWARDS
etched@engravecon.com